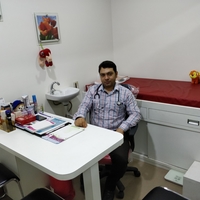 Dr. Sameer Awadhiya
MBBS
It is a good idea to see a doctor before you take up any activity. That said, most people with asthma can exercise without having to worry about adverse effects.
In fact, research shows that not only is exercise safe, but it should actually be encouraged because of its many benefits for overall health. Those with exercise-induced asthma need to consult their doctor before exercising, however.
Since asthmatics are more sensitive to extremes in temperature, pollution and allergens, it is advisable to not exercise outside if:
The pollution levels are too high in your locality
It is allergy season.
Or it is extremely cold outside.
Swimming is a particularly good way to keep healthy and increase lung capacity. Team sports such as cricket, which require bursts of energy rather than sustained energy, and leisure exercises such as hiking and cycling are considered safe too.
No exercise is off-limits per se, but sports that are played in cold temperatures such as ice hockey, and strenuous endeavours such as long-distance running and soccer should be approached with more caution. With well-controlled asthma, these activities are also considered safe.
Warming up adequately before exercising, gradually increasing the duration and intensity of your exercise routines and avoiding overexertion can help a lot. Further, try breathing through your nose and make sure you are adequately hydrated throughout.