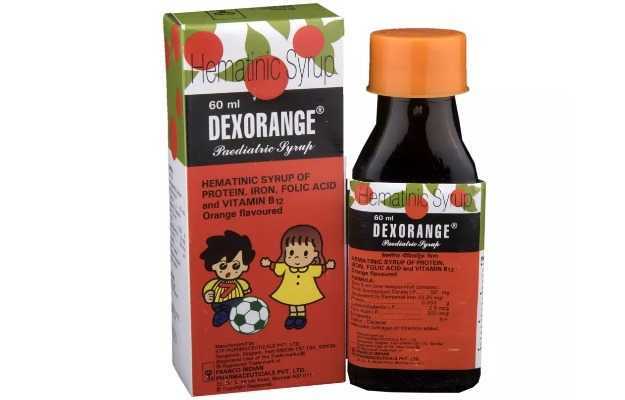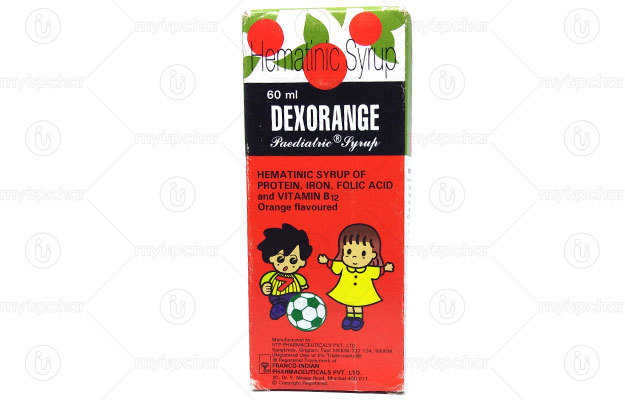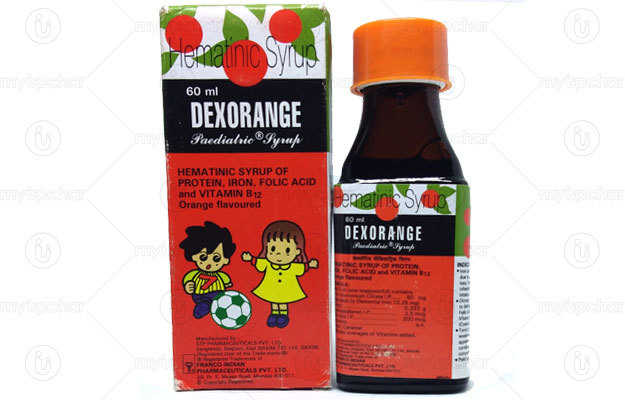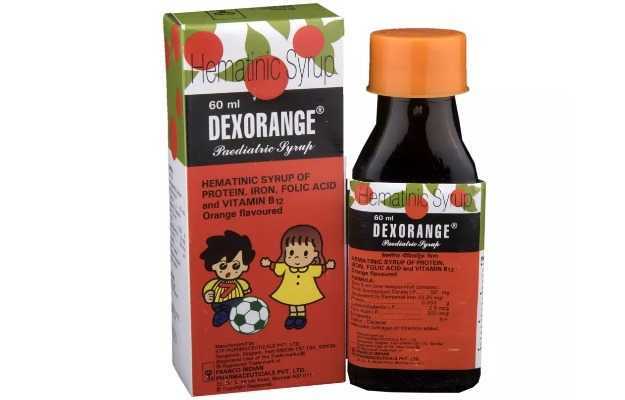 Dexorange Paed Syrup Orange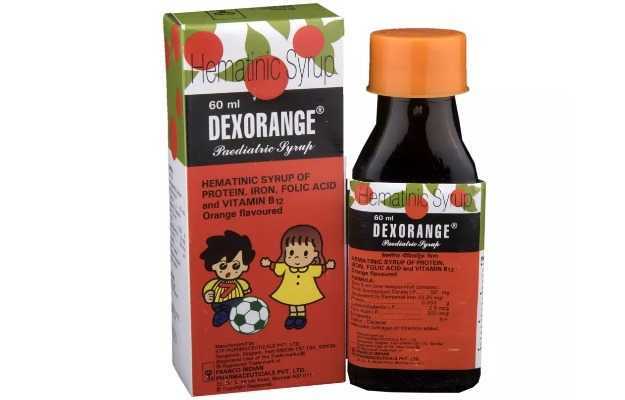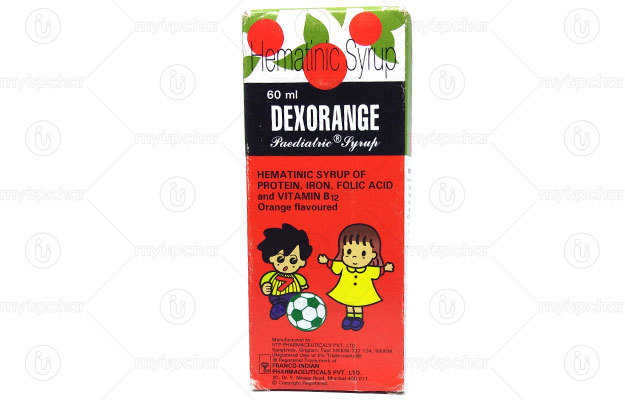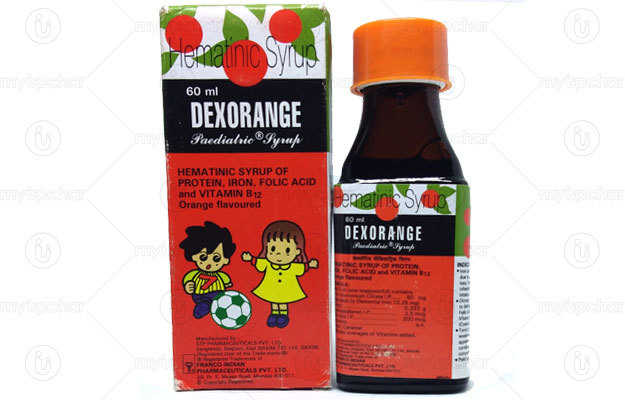 Dexorange Paed Syrup Orange
6184 people have bought this recently
---
Select the variant of Dexorange Paed Syrup Orange
---
---
Seller: Apollo Pharmacy Limited
Delivery fees charged by seller: ₹49.0. (Free Delivery by this seller if order value is above ₹500.0)
This medicine is not available on Cash on Delivery(CoD)
---
Dexorange Information
Dexorange Paed Syrup Orange is an allopathic medicine that is primarily used for the treatment of Anemia. The key ingredients of Dexorange Paed Syrup Orange are Folic Acid, Iron, Cyanocobalamin. The properties of which have been shared below. The correct dosage of Dexorange Paed Syrup Orange depends on the patient's age, gender, and medical history. This information has been provided in detail in the dosage section.
Ingredients of Dexorange
Folic Acid

Drugs that provide the body with all essential nutrients for proper physical and mental growth.

Iron

Plant based compounds that are non-toxic and help regularise overall body functions

Agents or medicine that acts on the immune system to modulate immunity.

Cyanocobalamin

Substances which help in blood formation and are thus useful in the management of anaemia.
Dexorange Benefits
Dexorange is used to treat the following -
---
Dexorange Dosage
This is the usual dosage recommended in most common treatment cases. Please remember that every patient and their case is different, so the dosage can be different based on the disease, route of administration, patient's age and medical history.
Age Group
Dosage
Adult(Female)

General: Use prescribed amount
Before or After Meal: After Meal
Single Maximum Dose: 1 Tablespoon
Dosage Form: Syrup
Dosage Route: Oral
Frequency: BID (twice daily)
Course Duration: 1 months
---
Dexorange Side Effects
No side effects of Dexorange have been reported in the medical literature. However, you should always consult your doctor before using Dexorange.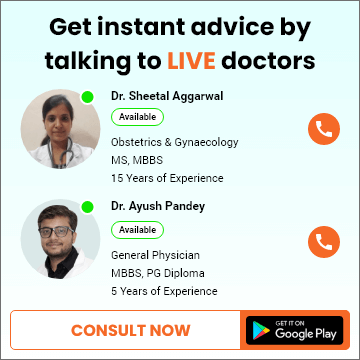 ---
Dexorange Related Warnings
Is the use of Dexorange safe for pregnant women?




No research has been done regarding the safety of Dexorange Paed Syrup Orange for pregnant women. Therefore, it cannot be said if Dexorange Paed Syrup Orange is safe during pregnancy.

Is the use of Dexorange safe during breastfeeding?




There is no research available on the side effects of Dexorange Paed Syrup Orange on breastfeeding women. Therefore, its impact is unknown.

What is the effect of Dexorange on the stomach?




Dexorange Paed Syrup Orange is not harmful for the stomach.

Is the use of Dexorange safe for children?




It is safe for children to take Dexorange Paed Syrup Orange.

Can I take Dexorange with alcohol?




Information about the interaction of Dexorange Paed Syrup Orange and alcohol is not available because this topic has not been researched yet.

Does Dexorange cause drowsiness?




Dexorange Paed Syrup Orange will not make you feel sleepy. Therefore, you can drive and operate heavy machinery safely.

Is this Dexorange habit forming or addictive?




There is no evidence on the habit-forming effects of Dexorange Paed Syrup Orange
---
This medicine data has been created by -