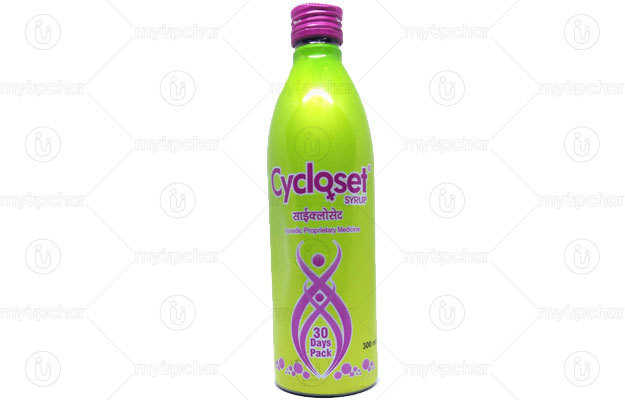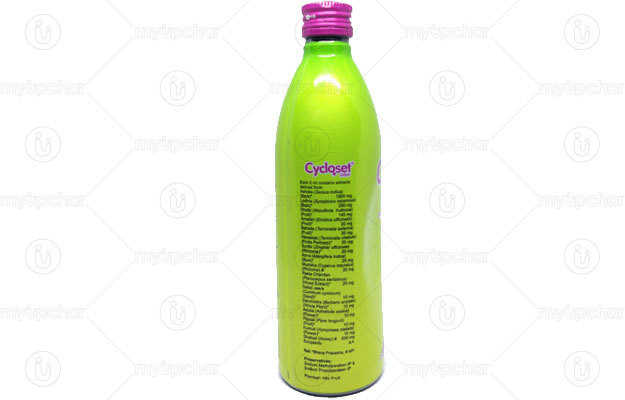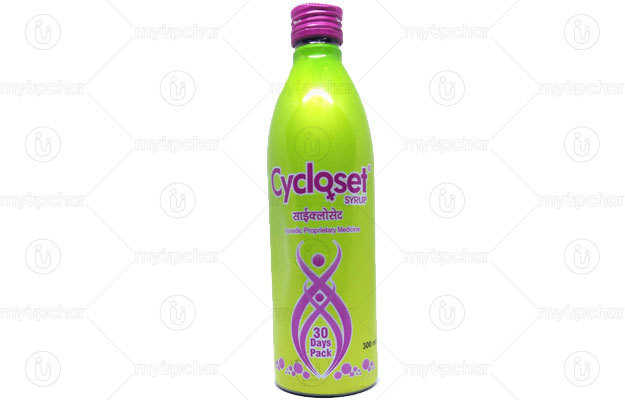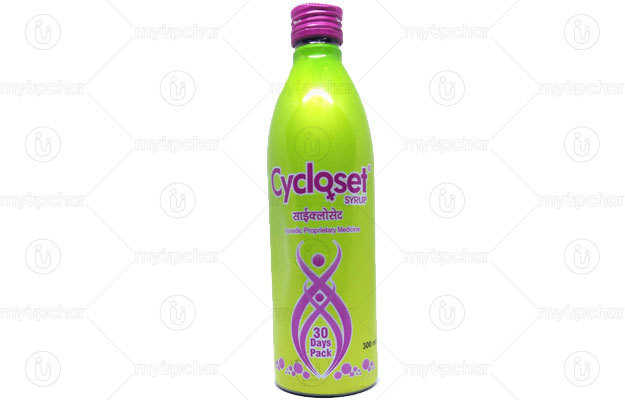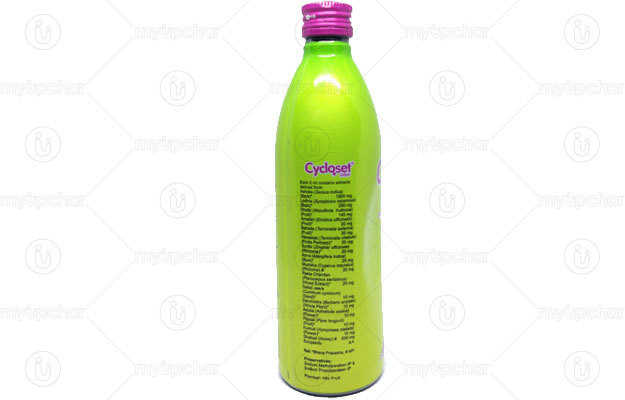 Cycloset Syrup
4920 people have bought this recently
---
---
Seller: Wellness Forever
Delivery fees charged by seller: ₹60.0. (Free Delivery by this seller if order value is above ₹500.0)
Country of Origin: India
---
1 more sellers are selling this medicine
Cycloset Syrup Information
Cycloset Syrup is an ayurvedic medicine that is primarily used for the treatment of Period problems. Secondary and off-label uses of Cycloset Syrup have also been mentioned below. The key ingredients of Cycloset Syrup are Amla, Ashoka, Sandalwood, Daruharidra, Haritaki, Lodhra, Mustaka (Nut Grass), Pippali, Baheda. The properties of which have been shared below. The correct dosage of Cycloset Syrup depends on the patient's age, gender, and medical history. This information has been provided in detail in the dosage section.
Ingredients of Cycloset Syrup
Amla

Substances that causes you to urinate more frequently to expel extra water from the body.

Agents that improve bowel movements and help in softening of stools promoting their elimination from the body

Substances that increases secretion of gastric juice which is beneficial in stimulating the digestive system.

Ashoka

A drug or an agent that reduces pain without causing loss of consciousness.

Medication used to induce labor and to reduce excessive bleeding after child birth.

Drugs that are effective in killing or reducing the growth of bacteria.

Sandalwood

Drugs used for the management of symptoms in case of a viral infection

A substance or preparation that constricts body tissue leading to reduction in the blood flow as well as other secretion.

Daruharidra

Agents that inhibit microbial growth or destroys microbes.

Haritaki

Substances that soothe the stomach and improve digestion.

Lodhra

Drugs that are used to relive diarrhea symptoms.

Compounds that reduce the size of skin pores or that contracts body tissues.

Mustaka (Nut Grass)

Drugs that kill and helps expel parasitic helminths (worms) from the body.

Drugs that help in improving urine excretion from the body.

Pippali

A drug or an agent that reduces pain without causing loss of consciousness.

Substances that arrest the growth of fungus or that kill fungi.

Baheda

Agents that have an effect on the immune system and help to alter immune function

Drugs that help in reducing bleeding by having vasoconstrictor effects.
Cycloset Syrup Benefits
Cycloset Syrup is used to treat the following -
---
Cycloset Syrup Side Effects
No side effects of Cycloset Syrup have been reported in the medical literature. However, you should always consult your doctor before using Cycloset Syrup.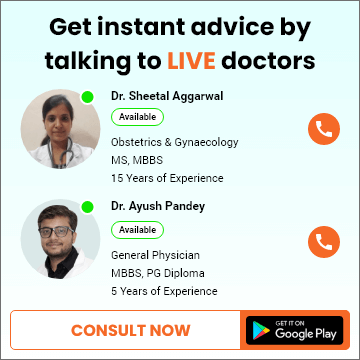 ---
Cycloset Syrup Related Warnings
Is the use of Cycloset Syrup safe for pregnant women?




Pregnant women can consume [medicine]. Its side effects are very low.

Is the use of Cycloset Syrup safe during breastfeeding?




Cycloset Syrup does not cause any harmful effects during breastfeeding.

What is the effect of Cycloset Syrup on the stomach?




Using Cycloset Syrup does not have any harmful effects on the stomach.

Can I take Cycloset Syrup with alcohol?




No research has been done on this till date. Therefore, it is not known what the effect of taking Cycloset Syrup with alcohol will be.

Does Cycloset Syrup cause drowsiness?




You can operate a vehicle or heavy machinery after taking Cycloset Syrup since it does not cause drowsiness.

Is this Cycloset Syrup habit forming or addictive?




There is no evidence on the habit-forming effects of Cycloset Syrup
---
Severe Interaction of Cycloset Syrup with Other Drugs
Cycloset Syrup should not be taken with following medicines due to severe side effects it may cause to patients -
---
This medicine data has been created by -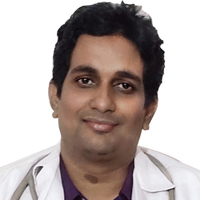 Dr. Braj Bhushan Ojha
BAMS, Gastroenterology, Dermatology, Psychiatry, Ayurveda, Sexology, Diabetology
10 Years of Experience
---
References
Ministry of Health and Family Welfare. Department of Ayush: Government of India. [link]. Volume 1. Ghaziabad, India: Pharmacopoeia Commission for Indian Medicine & Homoeopathy; 1986: Page No 5-8
Ministry of Health and Family Welfare. Department of Ayush: Government of India. [link]. Volume 1. Ghaziabad, India: Pharmacopoeia Commission for Indian Medicine & Homoeopathy; 1986: Page No 17-18
Ministry of Health and Family Welfare. Department of Ayush: Government of India. [link]. Volume- II. Ghaziabad, India: Pharmacopoeia Commission for Indian Medicine & Homoeopathy; 1999: Page No 34-36
Ministry of Health and Family Welfare. Department of Ayush: Government of India. [link]. Volume 1. Ghaziabad, India: Pharmacopoeia Commission for Indian Medicine & Homoeopathy; 1986: Page No 62-63
Ministry of Health and Family Welfare. Department of Ayush: Government of India. [link]. Volume 1. Ghaziabad, India: Pharmacopoeia Commission for Indian Medicine & Homoeopathy; 1986: Page No - 112 - 113
Ministry of Health and Family Welfare. Department of Ayush: Government of India. [link]. Volume 3. Ghaziabad, India: Pharmacopoeia Commission for Indian Medicine & Homoeopathy; 2001: Page No - 130 - 131
Ministry of Health and Family Welfare. Department of Ayush: Government of India. [link]. Volume 4. Ghaziabad, India: Pharmacopoeia Commission for Indian Medicine & Homoeopathy; 2004: Page No - 105 - 106
Ministry of Health and Family Welfare. Department of Ayush: Government of India. [link]. Volume 1. Ghaziabad, India: Pharmacopoeia Commission for Indian Medicine & Homoeopathy; 1986: Page No 33 - 34
Ministry of Health and Family Welfare. Department of Ayush: Government of India. [link]. Volume 1. Ghaziabad, India: Pharmacopoeia Commission for Indian Medicine & Homoeopathy; 1986: Page No 33 - 34