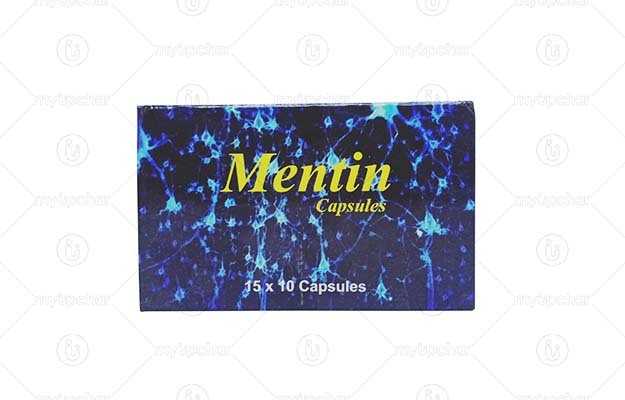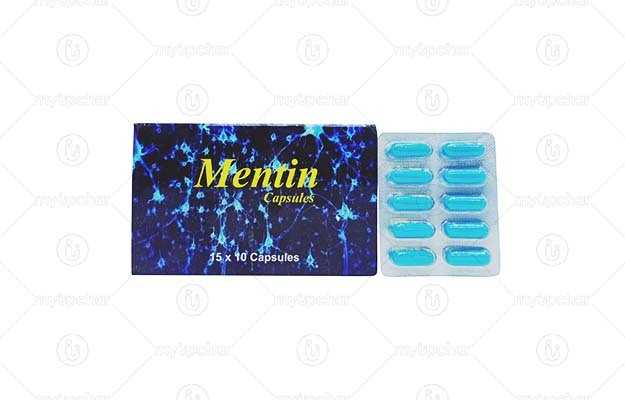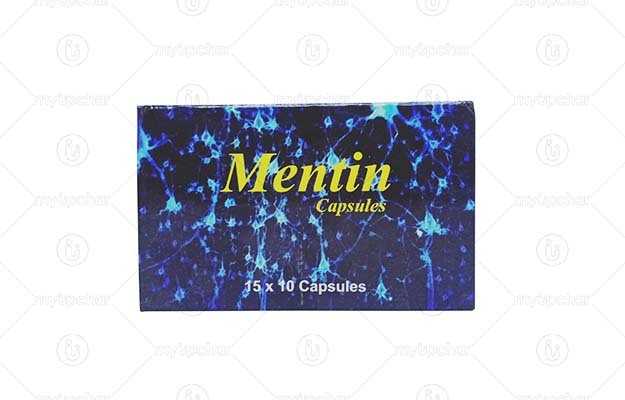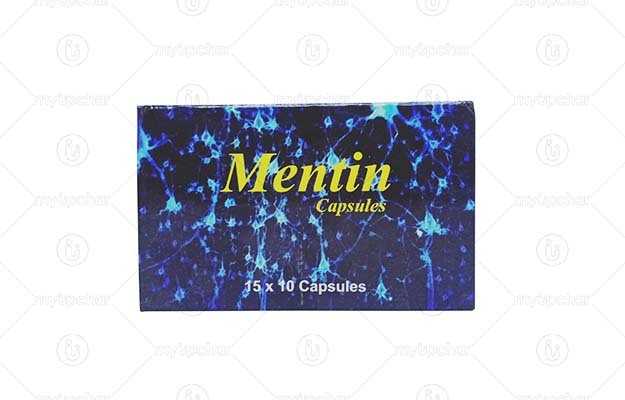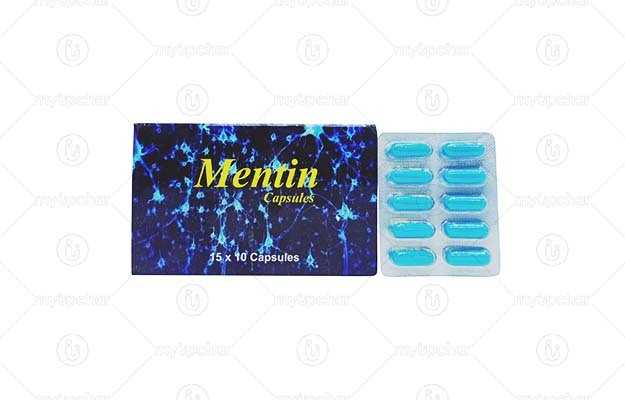 Mentin Capsule
32584 people have bought this recently
---
---
Mentin Capsule Information
Mentin Capsule is an ayurvedic medicine that is primarily used for the treatment of Memory Loss. Secondary and off-label uses of Mentin Capsule have also been mentioned below. The key ingredients of Mentin Capsule are Brahmi, Mandukaparni. The properties of which have been shared below. The correct dosage of Mentin Capsule depends on the patient's age, gender, and medical history. This information has been provided in detail in the dosage section.
Ingredients of Mentin Capsule
Brahmi

Drugs which are effective in reducing the symptoms of depression.

A substance or an agent that improves functioning of central nervous system.

Drugs used for the management of mental disorders including depression, stress and bipolar.

Mandukaparni

Agents that act on the brain and calm the nerves

Medicines that are used to inhibit or reduce the occurance of seizures.

Agents which prevent microbial replication and growth by either killing microorganisms or ceasing their actions.

Agents that improve the functioning of the CNS.
Mentin Capsule Benefits
Mentin Capsule is used to treat the following -
---
Mentin Capsule Side Effects
No side effects of Mentin Capsule have been reported in the medical literature. However, you should always consult your doctor before using Mentin Capsule.
---
Mentin Capsule Related Warnings
Is the use of Mentin Capsule safe for pregnant women?




Side effects of Mentin Capsule during pregnancy are not known because scientific research on this topic hasn't been done.

Is the use of Mentin Capsule safe during breastfeeding?




There is no research available on the side effects of Mentin Capsule on breastfeeding women. Therefore, its impact is unknown.

What is the effect of Mentin Capsule on the stomach?




You can take Mentin Capsule without any fear of damage to your stomach.

Is the use of Mentin Capsule safe for children?




There is no research available on the side effects of Mentin Capsule on children. Therefore, its impact is unknown.

Can I take Mentin Capsule with alcohol?




No research has been done on this till date. Therefore, it is not known what the effect of taking Mentin Capsule with alcohol will be.

Does Mentin Capsule cause drowsiness?




Mentin Capsule will not make you feel sleepy or drowsy. So you may drive or operate machinery safely.

Is this Mentin Capsule habit forming or addictive?




Chances of addiction to Mentin Capsule are nil
---
This medicine data has been created by -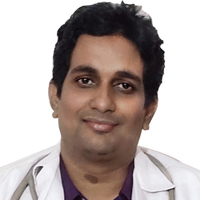 Dr. Braj Bhushan Ojha
BAMS, Gastroenterology, Dermatology, Psychiatry, Ayurveda, Sexology, Diabetology
10 Years of Experience
---
References
Ministry of Health and Family Welfare. Department of Ayush: Government of India. Volume- II. Ghaziabad, India: Pharmacopoeia Commission for Indian Medicine & Homoeopathy; 1999: Page No 25-27