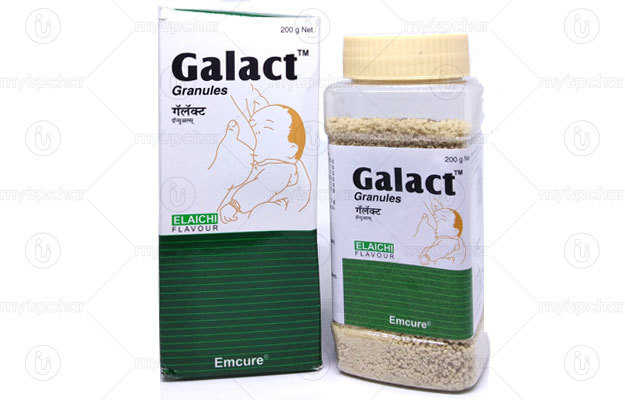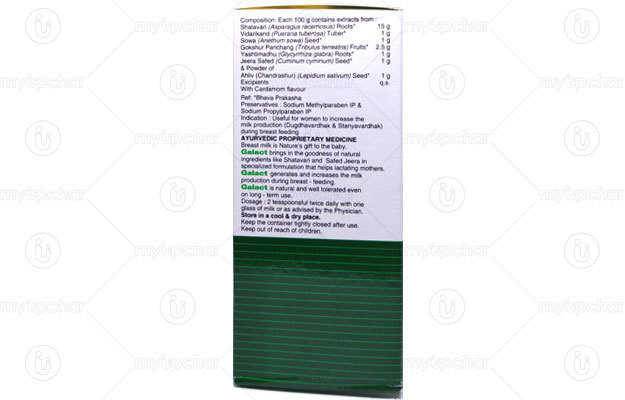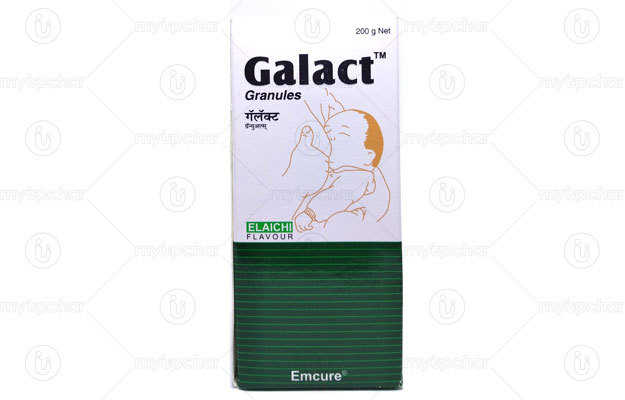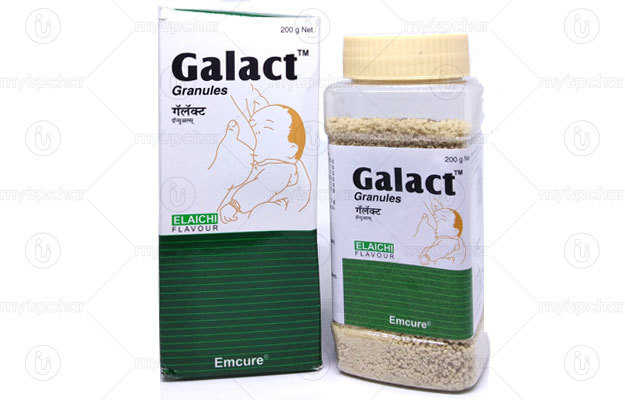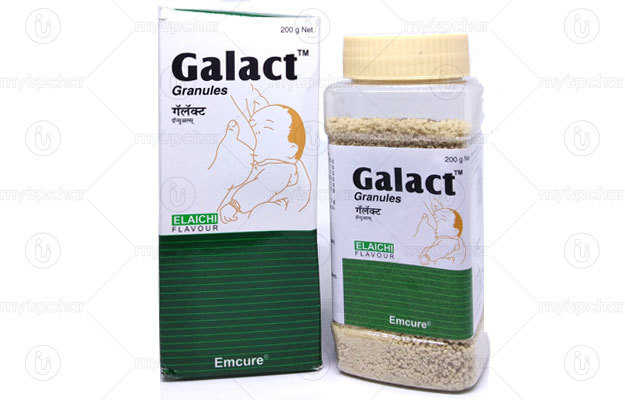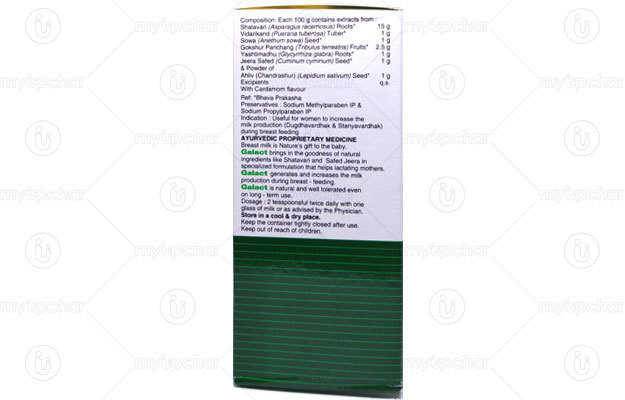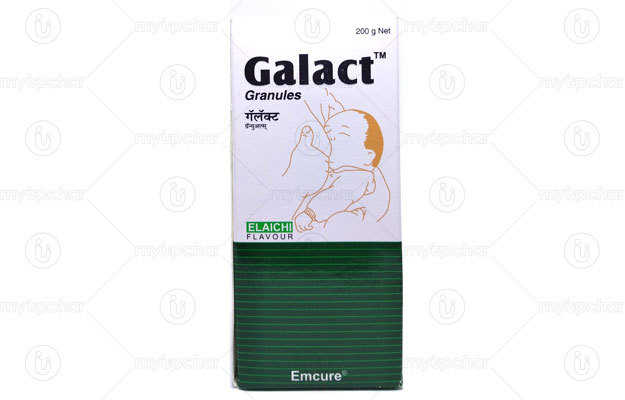 Galact
921 people have bought this recently
---
---
Galact Information
Galact Granules is a nutritional supplement that resolves lactation problems in motherhood. The key ingredients of Galact are Jeera, Liquorice, Shatavari, Dill, Vidarikand. The properties of which have been shared below. The correct dosage of Galact depends on the patient's age, gender, and medical history. This information has been provided in detail in the dosage section.
Ingredients of Galact
Jeera

A substance that can inhibit the oxidising effect of free radicals in living cells.

Drugs that help to eliminate excess gas from the gastrointestinal tract.

Substances that improve digestive processes.

Liquorice

Substances that scavange the singlet oxygen molecules in the body.

Agents that improve digestion and aid in food absorption.

Substances that promotes liver function and prevent liver damage.

Agents that have an effect on the immune system and help to alter immune function

Shatavari

Drugs which help to regulate blood sugar levels

Agents, which help to reduce oxidative stress, by scavenging free radicals

Drugs which are used to relieve or treat mental depression.

Drugs that are used to increase water expulsion from the body in the form of urine.

Compounds that promote menstruation by increasing blood flow in the uterus or pelvic region.

Drugs that are employed for the treatment of a cough

A substance or an agent that increases the secretion milk in the breast.

Substances that modulate the immune system and effect immunity.

Agents that inhibit microbial growth or destroys microbes.

Dill

Agents that help to maintain a state of homeostasis in the body and regulate body functions during stress and weakness

Agents, which help to reduce oxidative stress, by scavenging free radicals

Drugs that lower the level of fats in the body and are used for the treatment of high cholesterol.

Vidarikand

Agents which increase cardiac output by strengthening heart muscles and improving heart function.

Substances that promotes liver function and prevent liver damage.

Drugs that are used for managing excessive blood sugar levels in case of diabetes.

Drugs which help to control lipid content and cholesterol levels in the body. They are employed for preventing cardiac disorders.
---
Galact Dosage
This is the usual dosage recommended in most common treatment cases. Please remember that every patient and their case is different, so the dosage can be different based on the disease, route of administration, patient's age and medical history.
Age Group
Dosage
Adult(Female)

General: Use prescribed amount
Before or After Meal: Either
Single Maximum Dose: 2 Teaspoon
Preferred way of taking: Milk
Dosage Form: Granules
Dosage Route: Oral
Frequency: BID (twice daily)
---
Galact Side Effects
No side effects of Galact have been reported in the medical literature. However, you should always consult your doctor before using Galact.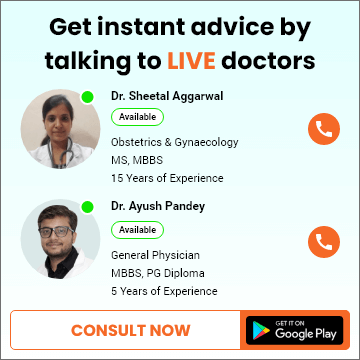 ---
Galact Related Warnings
Is the use of Galact safe for pregnant women?




Side effects of Galact during pregnancy are not known because scientific research on this topic hasn't been done.

Is the use of Galact safe during breastfeeding?




Galact does not cause any harmful effects during breastfeeding.

What is the effect of Galact on the stomach?




You can take Galact without any fear of damage to your stomach.

Is the use of Galact safe for children?




It is not known what effect Galact will have on children, because no research work has been carried out on this till date.

Can I take Galact with alcohol?




It is difficult to say anything about the effect of Galact and alcohol. No research has been done on this.

Does Galact cause drowsiness?




It is safe to drive or work after taking Galact as it does not make you drowsy.

Is this Galact habit forming or addictive?




Regular use of Galact does not lead to addiction.
---
This medicine data has been created by -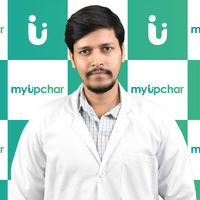 ---
References
Ministry of Health and Family Welfare. Department of Ayush: Government of India. [link]. Volume 1. Ghaziabad, India: Pharmacopoeia Commission for Indian Medicine & Homoeopathy; 1986: Page No 142-143
Ministry of Health and Family Welfare. Department of Ayush: Government of India. [link]. Volume 1. Ghaziabad, India: Pharmacopoeia Commission for Indian Medicine & Homoeopathy; 1986: Page No - 168 - 169
Ministry of Health and Family Welfare. Department of Ayush: Government of India. [link]. Volume 4. Ghaziabad, India: Pharmacopoeia Commission for Indian Medicine & Homoeopathy; 2004: Page No 122 - 123
Ministry of Health and Family Welfare. Department of Ayush: Government of India. [link]. Volume 2. Ghaziabad, India: Pharmacopoeia Commission for Indian Medicine & Homoeopathy; 1999: Page No 183 - 184