Paxsolve Capsules
Manufactured by: Me Solves
Storage: Store at room temperature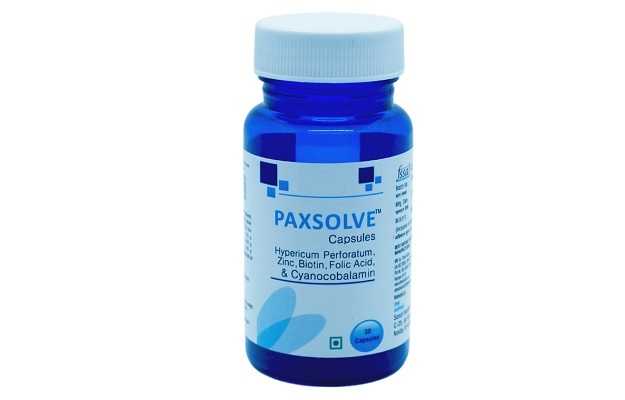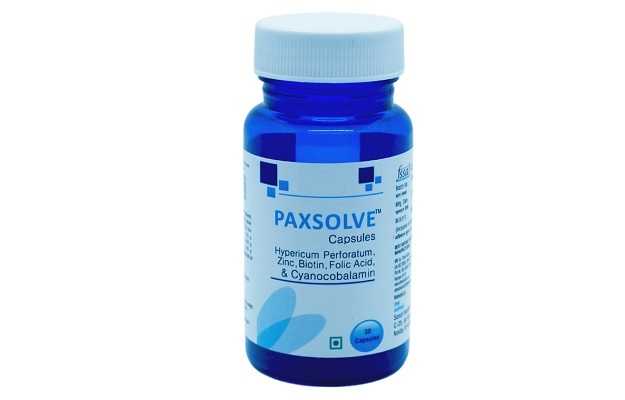 Paxsolve Capsules
631 people have bought this recently
---
Manufactured by: Me Solves
Storage: Store at room temperature
---
---
Paxsolve Capsules Information
Paxsolve Capsules is a herbal medicine that is primarily used for the treatment of Mental Illness, Anxiety. Secondary and off-label uses of Paxsolve Capsules have also been mentioned below. The key ingredients of Paxsolve Capsules are Folic Acid, Methylcobalamin, Zinc, Hypericum Perforatum, Rhodiola Rosea. The properties of which have been shared below. The correct dosage of Paxsolve Capsules depends on the patient's age, gender, and medical history. This information has been provided in detail in the dosage section.
Ingredients of Paxsolve Capsules
Folic Acid

Drugs that improve nutrition of the body for optimal physical and mental functioning.

Substances which aid blood formation and help in the treatment of anaemia.

Methylcobalamin

Substances that provide nourishment to the body.

Zinc

Drugs that act on the immune system to modify immune response

Medicine or an agent which stimulates the nervous system and calms the excited nerves.

Hypericum Perforatum

Agents which are used to relieve depression symptoms.

Rhodiola Rosea

Plant based compounds that are non-toxic and help regularise overall body functions

Drugs which are used to relieve or treat mental depression.

Drugs that are used for stabilising mood and treating mania, especially in case of bipolar disorder.
Paxsolve Capsules Benefits
Paxsolve Capsules is used to treat the following -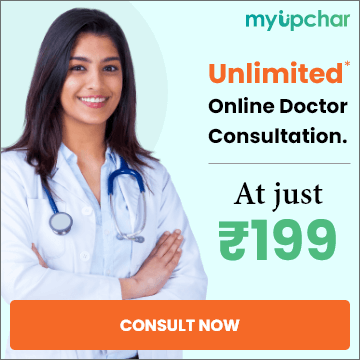 ---
Paxsolve Capsules Side Effects
No side effects of Paxsolve Capsules have been reported in the medical literature. However, you should always consult your doctor before using Paxsolve Capsules.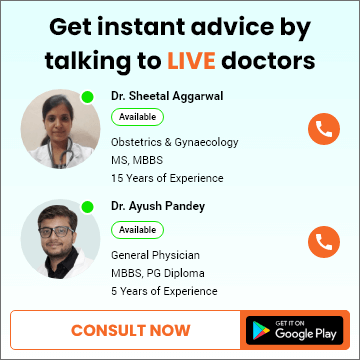 ---
Paxsolve Capsules Related Warnings
Is the use of Paxsolve Capsules safe for pregnant women?




Side effects of Paxsolve Capsules during pregnancy are not known because scientific research on this topic hasn't been done.

Is the use of Paxsolve Capsules safe during breastfeeding?




Information about safety of Paxsolve Capsules for women who are breastfeeding is not available since scientific research on this is yet to be done.

What is the effect of Paxsolve Capsules on the stomach?




Paxsolve Capsules is not harmful for the stomach.

Is the use of Paxsolve Capsules safe for children?




Paxsolve Capsules is not safe for paediatric use.

Can I take Paxsolve Capsules with alcohol?




No research has been done on this till date. Therefore, it is not known what the effect of taking Paxsolve Capsules with alcohol will be.

Does Paxsolve Capsules cause drowsiness?




Paxsolve Capsules does not cause dizziness or drowsiness, so you can drive a vehicle or operate machinery also.

Is this Paxsolve Capsules habit forming or addictive?




Currently, no research suggests that the use of Paxsolve Capsules can lead to addiction.
---
This medicine data has been created by -